The Farm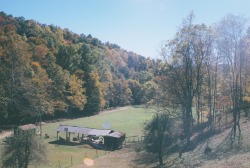 Tawney Farm LLC was established in 2010 but we've been living here since 2002. The "farm" has a two-story barn built in the early 1900's that is home to our Merino and Jacob sheep. You'll love the layout and design of the barn with its handcut stone foundation. Our farm is also home to two miniature horses, chickens and of course, dogs and cats. There's also a tractor barn with corn cribs, an old wooden garage/tool shed and several other utility buildings, one of which we've converted into our farm store and information booth. We've also built a stage onto the old sawmill to present live music. See the The Old Mill Stage page for schedules.

---
Merino & Jacob Sheep
Merino sheep, which are so famous for their fine wool, originated in Spain. It is the main breed raised in New Zealand. Merinos were first imported to North America in the 1700's. Since the lambs are small and mature slowly, wool is the main reason to raise them, other than selling breeding stock. Merino fleece is heavy with lanolin.
Although the origin of Jacob sheep is unknown, the breed gets its name from the story of Jacob and his spotted sheep in the book of Genesis. In addition to having random spots all over its body, it often grows up to six horns, although four is more common. Cross bred with our Merinos, it produces a dark brown fine wool that spinners love.

---
Products for Sale
In order to keep prices low, we just take orders via e-mail as opposed to paying a monthly fee for an online store. Simply fill out the
Contact Us
page with the item you wish to purchase and we'll send you an invoice via PayPal.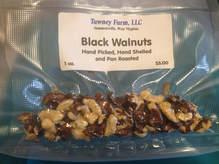 Blacks Walnuts
Hand picked, hand shelled and pan roasted. $3.00 for 1 oz.
James worked many hours picking, shelling, cracking, pan roasting and packaging these black walnuts from the trees on our farm. Delicious and natural.
---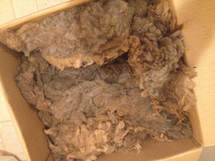 Raw Wool
Unprocessed raw wool lightly skirted. I have white and light brown pure Merino, solid white Jacob and a variety of brown hues of Jacob wool. Pure Merino is $15/lb. and Jacob is $10-15/lb.
---
Felted Crafts
Dryer balls - 3 for $5.
Clutches - $10
Hats - $25
Animals - $5
Vessels - $10


Wool Sheep For Sale
All of our sheep are wool sheep, not meat sheep.
Little Man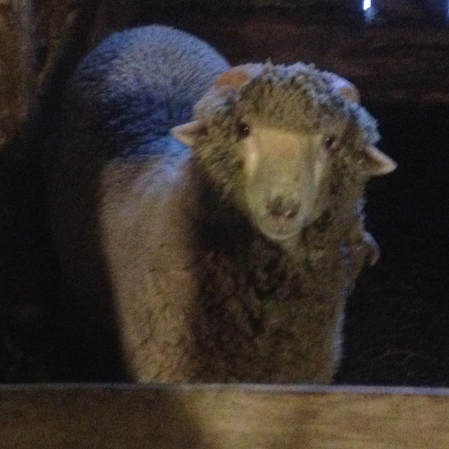 Little Man is 3/4 Merino and 1/4 Suffolk. He was born in early February 2017 and has already proven to be an excellent sire producing 3 lambs this year. He is looking for his own herd of ewes. Beautiful solid white wool. He will be available for sale as soon as it's warm enough to shear him. $250.00
---
4-Horn **SOLD**
4-Horn was born February 2011 to Ginger, our matriarch original Jacob ewe. His sire was Argo, our pure bred Merino ram. He took most of the Jacob characteristics having 4 horns (hence the name), the typical markings of a Jacob/Merino cross, and Argo's super fine wool blended with the Jacob to make a great fiber. He was super hot this past breeding season but unfortunately was not one of the lucky breeders this year. He's looking for his own harem of ewes as he is a very dominant ram, but tame enough to handle. His price is $250.00 Sold to a family in Walkersville, WV.