Welcome to the Tawney Farm
The Tawney Farm is a small-scale sheep farm located next to the beautiful Gauley River National Recreation Area in the Mountain Lakes region of central West Virginia. Our 120 acres lie nestled in between two beautiful mountains -- one of them named Panther Mountain-- in the Gauley River gorge. Here we raise and sell Merino and Jacob sheep for their wool. Our farm is also home to miniature horses, chickens, and of course dogs and cats.
---
---
AgriTourism Destination
Sometimes you've just got to get away. Whether it's a romantic getaway for two or you want to "unplug" the family and get back to nature, you'll find beautiful views and peace and quiet await you here. We offer
private camping
by reservation with the Gauley River Wild & Woolly Primitive Campground. The farm is also an outdoor venue for special events such as family reunions, weddings, private parties, music festivals, corporate retreats or group meetings with or without camping. Bird watchers and nature lovers will find our farm the perfect place to visit with access to nature trails.
We're super convenient for boaters and kayakers because our farm is at the top of the hill from Mason's Branch on the Middle Gauley.
Very close to Summersville Lake & Dam, Carnifex Ferry (Civil War Battleground) State Park and just minutes from the beautiful Gauley River, you're sure to find something exciting to do in the Gauley River National Recreation Area. See the
The Campground
,
Campground Rules
and
Group Camping and Special Events
pages for more details.
---
History of Panther Mountain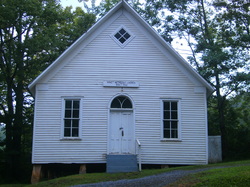 The Panther Mountain area is rich in history. Its name comes from a story about a hunter who had killed two deer in the area known as High Rocks. Not being able to carry both deer home, he hung one of the deer he had killed in a tree to retrieve the next day. When he did return, he found two panthers at the foot of the tree eating his deer. He shot one panther and the other one turned on him. Not having time to reload his gun, he threw gunpowder in the eyes of the panther as it started to attack him, causing the panther to retreat some distance away until he got his gun loaded and shot it also.
There are many Civil War stories about the area as well with several small skirmishes taking place between our farm and the little white church at the top of the hill. There's a beautiful farm house built in 1888 within a 1/4 mile of our farm that's been beautifully preserved.
For more information on
Panther Mountain
, see this link:
http://www.wvculture.org/history/agrext/panther.html
---